Ok got a few minor enhancements ideas...
Moving Message Prompt
Effect:
When you hit a button to start typing a message (n m , . z) instead of the prompt appearing below radar and info box, it appears above them.
Reason I want it:
I have a monitor when it turns on and is "cold" it will be warped, and if I leave it it will get better. But if I change it and it starts getting "warm" it will warp. Eventually the message prompt disappears and I have to quit bzflag either way to get the screen fixed (I have to use a control panel)
Port menu's to text files and allow downloading
Effect:
Turn menu's (main menu, display options, gui options) into text files, so they can be directly edited. Allow for downloading of other menu's that have basic access, load them as so /menu MyOptions those could contain options you edit a lot. And have menu's that might change other things like UDP.
Reason I want it
Several reasons why I want this, I know we all turn a specific feature on and off a lot (me it's textures, lighting etc. etc.)
Recatagorize /set'able variables with a seperate permission
Effect
/set _map specific variables have one permission and /set _server specific variables have a different permission and catagorized differently
Reason I want it
Admins could change map specific settings (_noClimb) to enhance map, while they can't touch other settings (_noSmallPackets) or similar. Only Server Owners could. At the same time, server owners couldn't change map specific settings.
Flag Idea
Flag:
Rear View Mirror (RV?)
Effect
Put's a rear view mirror on your tank.
Flag Idea
Flag:
Flash Bang (FB)
Effect
A bullet that if it gets to close to a tank it "flashes" them and ends. It would basically make them blind on the HUD (turn everything white) And it fades away.
footnote
I didn't know at the time there was one on the Wiki named Flash Bang, and is completely unrelated to that.
Idea from A Meteorite!!!
Flag Idea
Flag:
EMP Pulse (EM)
Effect
Same bullet idea as Flash Bang, but "Jams" the radar. Bullet gets to close to tank, bang. Their radar Jitters for a set amount of time. This is a great counter-flag for dodging.
I got this idea from FlashBang, FB was A Meteorites idea.
Teleporter Boundry "Viewing"
I still think this is awesome... here's a picture of what I mean
http://www.flickr.com/photos/binaryspike/351174124/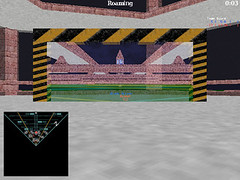 Not sure what that would do to FPS.
(let alone if it would screw culling up...)
*edit* cleaned post up, removed signature (accidentally removed kudos to A Meteorite)
*edit* fixed FB flag so credit goes to A Meteorite