Seeing as I've been folding for quite some time now, I decided that it was time to try folding a tank. At first, I couldn't really get much- I had the top part and the barrel. Eventually I managed to get the rest of the tank, and it worked quite nicely.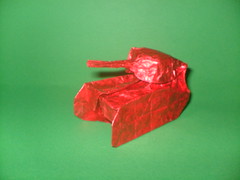 (Click on the pictures for a larger size image)
So why is this in the BZFlag art and screenshots section? Because BZFlag is my only reason for folding it. Of course, theres also a
post on my blog
.