Yes, I've gotten carried away with Wings3d again.
This map is based on the D-Day landings at Omaha Beach and was heavily inspired by Spazzy McGee and CBG's Normandy map a while back. There's a lot of world weapons, mines, and powerful flags. For now, I have it as a one way capture the base. The blue team just needs to scale the cliffs and get to the base to cap, while the red team defends. I'll have to see how that goes.
It's up at bzbattleground.com:8700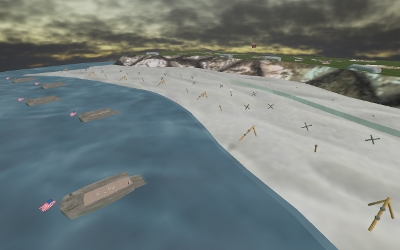 http://www.youtube.com/watch?v=1WNxVzumyPc
Thanks to ahs3, Amaterasu, LouMan, Optic Delusion, R3lax, Spazzy McGee, and yallaire for hosting, skydome, and textures.