A standard 7 segment display clock that counts up in seconds, minutes and hours, resetting after 23:59:59 to 00:00:00
I know there's been one that uses world weapons released - This is less complicated to move around your map..
I've made it as part of my upcoming map, but I thought it might be nice to release it as a separate object.
If you start BZFS at midnight, it should show the correct time. Otherwise it will show the time the server has been up.
I made this as an example of dyncols. Each digit is a standard 7 segment display, like you might get on a simple numeric display, and each segment is tuned on in sequence with a dyncol. It contains 42 dyncols and 42 materials, plus 6 meshes, with a face for each segment in the display To move it around in your map, edit the final group definitions in the map file. There are two there as an example, e.g.:
You could use the materials with a custom mesh, I've labeled them as the materials for segments a, b, c, d, e, f, g, as shown in this diagram. The rightmost number corresponds to materials a1, b1, c1... etc. The leftmost a6, b6, c6... etc.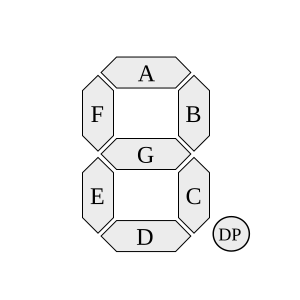 Have fun!
This map is released under the Creative Commons Attribution-NonCommercial-ShareAlike 3.0 license.
A full legal copy of this can be found at http://creativecommons.org/licenses/by- ... /legalcode