We are developing a new plugin called PowerDist. It is an updated simpleStats plugin. I'm not going into that, I'm just telling players how to use the TOP-50 Billboard.
UPDATE:
Coming soon... one versus one scores for registered players.
The plugin keeps track of all kills on the server, popping the data into an SQLite database. At midnight (eastern USA time), the top 50 player sessions are calculated by normalized score. Player sessions with less than 40 kills are thrown out. Then a series of images are created from the data, and they are displayed on a billboard.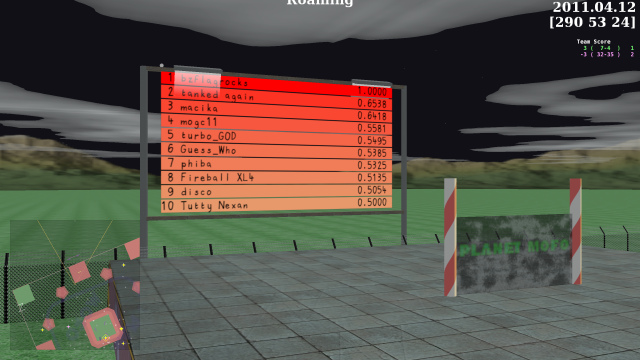 To get the daily image updates, you will need to change one setting on your client. Just
turn ON "Connection Updates" in your cache settings
. I have a server hack that will force this setting onto clients, but it has a side effect, so I prefer not to use it.
Because the images are not hosted at a bzflag.org site, you will also need to follow the policeman's instructions, if you have not already done so.